How To Taste Like a Pro…even on your first visit!
The first visit to a winery can be confusing and even a little intimidating. What Do I do when I get there? Am I expected to buy a bottle? Do I tip?
Grape Adventures' complete tasting room guide offers everything you need to know to ensure a delightful, educational wine tasting trip. Below are essential tips on proper etiquette, planning, and mistakes to avoid.
Follow this wine tasting guide and taste like a pro. 
DO YOUR HOMEWORK
There are over 500 wineries and nearly 4 million visitors a year in Napa Valley alone. New vineyards are appearing in all regions, so it's important to do a little homework before you go.
What kind of wines do you prefer? Research some of the wineries who are renowned for these varietals. Planning on a picnic? Which winery has the most picturesque setting? What grape is the region best known for? When does the region harvest their grapes? What is the best time of the year to visit? Do they allow pets? Children? What is the wine price range? Do they require reservations?
Plan on visiting no more than 3 or 4 wineries in a day so you can enjoy and thoroughly experience the setting.
Most wineries open between 10:00 and 11:00 am and close between 5:00 and 6:00 pm. Map out your itinerary and set a plan regarding which wineries you wish to visit first. Some wineries have music in the afternoon, and you may wish to schedule them last!
Get an early start to visit with your preferred winemaker and tasting room staff. They will be less busy in the morning. When planning your itinerary make sure you accommodate time for travel between the wineries. Weekdays and Sundays tend to have fewer crowds than Saturdays.
Be prepared to answer, "What kind of wine do you like?" Many people who aren't familiar with wine find it hard to answer on the spot. If you are not sure, it is OK to say something like, "I enjoy a variety of wines. What is your winery most noted for?" It also helps to learn a little about the different varietals before you go such as Cabernet Sauvignon, Chardonnay, Zinfandel, Pinot Noir, or any of the other varietals this particular AVA excels in.
Consider reading reviews, social media, and in-debt information found on Grape Adventures. Whether it's of the wineries, hotels, restaurants, whatever you may be unsure about — reviews can be helpful.  Consider asking the staff working at other wineries what their favorite tasting rooms are. They sometimes have a local inside track to some terrific less known wineries.
Learn and plan as much as you can ahead of time to be sure to make the most out of your wine adventure!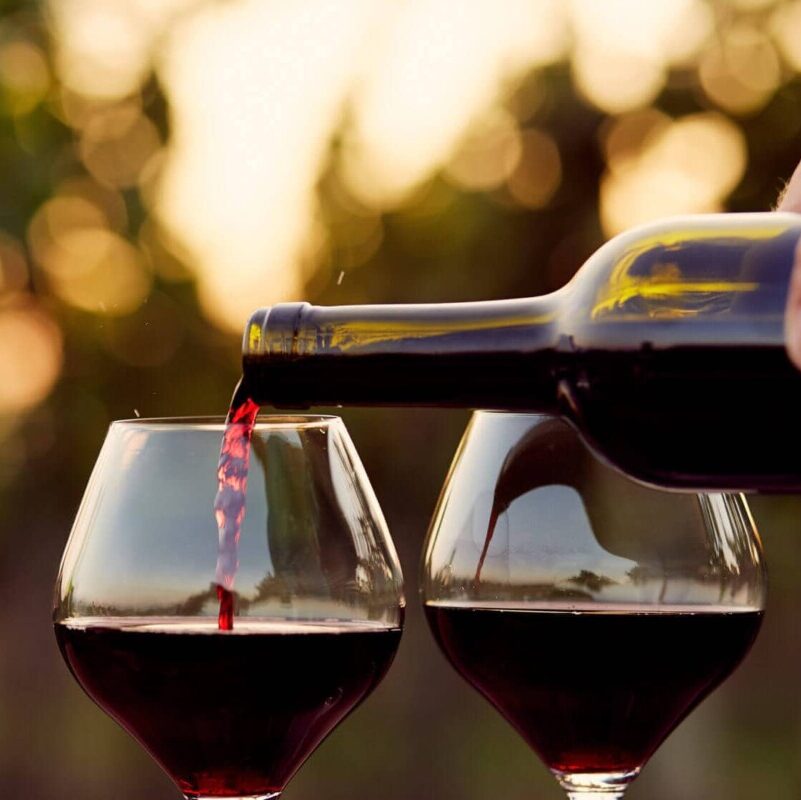 WALK-INS VS APPOINTMENT
* Due to COVID-19, all wineries require reservations and many are closed for visitation as of July 2020. Don't let Covid-19 discourage you from attempting "day of" plans, as you may be able to get in if they have a cancellation or vacancy. However, to cut down on stress and disappointment, make reservations as far in advance as possible.  
Currently the indoor tasting rooms are closed but some offer tastings in their outdoor areas, vineyards or patios. Check for information on Grape Adventures regarding open hours for each winery. But, it is still recommended to call the winery or look on the winery's website to see if they are open as Covid-19 rules and regulations are changing often. 
Pre pandemic information below:
Many wineries are open seven days a week and welcome walk-ins to the general public. However, many have limited hours and are open by appointment only. Planning is especially important during the busy season that runs from June through harvest time in September – October.  Napa Valley and Sonoma can be  particularly busy.
It's good to do some research beforehand to make sure the wineries you want to visit can accommodate you before you show up. This is particularly important if your group is larger than six people. Some smaller wineries are unable to accommodate larger groups and even large wineries will often require an appointment for eight or more.
Remember, just because a winery requires an appointment, it doesn't necessarily mean it's going to be a pretentious or expensive experience. (Again, this is where research helps.)
If you find yourself with additional time, it never hurts to call a winery who requires reservations at the last minute and see if they can fit you in. There is often space available.
EAT BEFORE YOU BEGIN WINE TASTING
Tasting wines (and hopefully drinking some, too) on an empty stomach is a recipe for trouble.  Eat a good breakfast or lunch before you start out on your wine tasting adventure and snack a little during the day, if possible.
MIND THE NOSE
Wine tasting is a sensory experience of taste and smell, the last thing you want to do is add unnecessary outside stimulations to the course. Avoid using any perfumes or colognes that will interfere and alter the taste of the wine. 
Between 75% and 95% of what we commonly think of as taste actually comes from the sense of smell. If anything, please think of the other patrons who are wine tasting next to you. You should also avoid breath mints and chewing gum to fully experience the wine you are tasting.
HOW TO DRESS WHILE WINE TASTING
As a general rule, you should balance style and comfort. Dress in layers and wear comfortable shoes. Closed-toe shoes are best for walking through dusty vineyards. Temperatures can vary drastically – from cool foggy mornings to hot sunny afternoons, to very chilly at night – all within the same day.
Take a lightweight jacket or wrap along. Winery caves are kept 55 to 60 degrees and can feel cold at any time of year.
Don't wear high heels, you may be walking in the dirt in the vineyard or slippery wine production areas on a tour. Some people prefer not to wear white to hide the sometimes unavoidable red wine spills.
As a side note, you may reconsider wearing bright lipstick or lipstick altogether. It can affect the taste of the wine and leaves a residue on the glasses.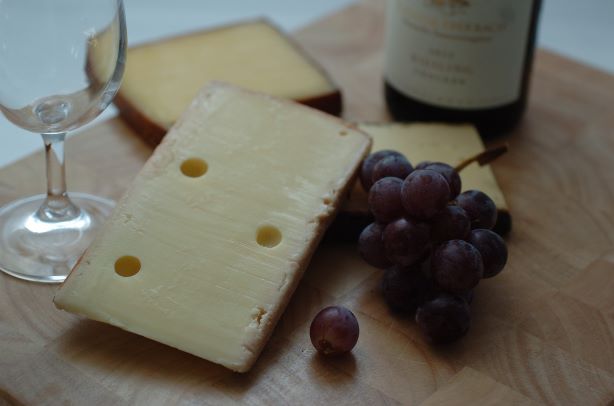 ORDER A CHARCUTERIE PLATE DURING TASTING
Many wineries serve a charcuterie board in the tasting room consisting of a variety of fruits, nuts, meats, and cheeses. Charcuterie cleanses your palate, reduces alcohol absorption, and can make the wine taste better if paired correctly.  If you are having a full day of wine tastings make sure to eat something along the way.
PICNIC IN THE VINEYARD
Elevate your dining alfresco experience by enjoying a gourmet picnic accompanied by a great glass of wine and stunning views of the vineyards.
Many wineries offer a picturesque picnic area and are happy to have you lunch at the vineyard and enjoy their wine. However, it's always a good idea to call ahead and check with them first on their outside food policy.
DRINK WATER
It is highly recommended to drink water in between tastings to stay hydrated. The French recommend drinking two glasses of water for every glass of wine you consume
ARRIVING AT THE TASTING ROOM – THE WINE TASTING PROCESS
To the uninitiated, the thought of visiting a wine tasting can seem intimidating. We are used to drinking wine with meals and friends, in a relaxed and familiar setting. For some, the thought of joining wine aficionados as they sip and discuss the hints of plum and complexity of the body may feel uncomfortable.
Keep in mind, your visit to the tasting room is the winery's opportunity to showcase their wine with the ultimate goal of making the event an enjoyable experience, and you a customer for life. They welcome visitors who are beginning their wine discovery adventure and are there for you to share their knowledge and make the experience memorable.
Park in the winery's "tasting room" parking lot and follow the signs to the tasting room. Do not drive into the wine production areas. Enter and head to the spot where everyone is tasting. Some wineries have a hostess, particularly if reservations are required, where you check in first.
A host will be behind the bar to greet you and get you started with wine glasses.
The host, who sometimes might be the winemaker, explains what wines are available for tasting, the tasting fees, and the different wine flight choices. (See "What is a wine flight?" below) Often there are several flights to choose from. One may be all reds, while others are a combination of reds, whites, and a dessert wine.
Many wineries offer a premium flight tasting which includes higher quality wines at a slightly higher tasting fee. Often they will provide a tasting menu with options and pricing. But, if not, you should feel comfortable to ask. 
Enjoy and let your host guide you through the tasting experience and share their wine knowledge and insight with you.
OK TO BE A WINE NOVICE
As mentioned, before, wine tasting is the winery's opportunity to present their wine and convert you into a lifelong customer. A large part of the tasting experience is learning and exploring new tastes and varietals. Ask your host questions and be open to new encounters. The overwhelming majority of winery visits are from novice wine drinkers.
More than anything, have fun. You are with friends or family in an often beautiful location drinking spectacular wine. It doesn't get any better than this.
TASTING FEES
Fees vary significantly from winery to winery, region to region and standard tasting to premium wine flights. Generally, fees run between $10 to $30 per person per flight. Noted regions such as NAPA can run higher and wineries charge extra for premium flights. Make sure to visit Grape Adventures winery listings and view starting wine tasting fees for each winery.
Many wineries refund one or more of the tasting fees if you purchase a certain number of their bottles of wine or join their wine club.
WHAT IS A WINE FLIGHT?
A wine flight is a group of wines, typically around five, and brought together for tasting and comparison purposes. A tasting serving size is typically 2 or 3 ounces per glass. Some wineries have different flights to choose from. All red wines, a combination of whites and reds, dessert wines and their premium wine flights. The host will explain how it works at their winery.
Wine flights are an excellent way to explore and quickly learn about the different wines and varietal tastes and characteristics which is why the experience is not only enjoyable but educational. Tasting wines side-by-side uncovers the subtle differences that are difficult to discern one glass at a time.
If available, we recommend paying a little extra for the reserve wine tasting flight and sample the winery's premium or limited production wines.
A lot of thought went into the wine selections and the order of the wine flight by the Vintners.
WINE TASTING ORDER – LIGHTER WINES FIRST HEAVY REDS LAST
The order in which wines are tasted starts with the lighter white wines, then the richer full-body white wines, then the lighter red wines, and finally the robust big reds. If the winery serves sparkling wine in the flight, then it is served first, and any dessert wines are tasted last.
It is acceptable to skip any of the wines on the tasting list if you wish. You may prefer to focus solely on reds or a particular varietal. However, we suggest you be open to trying all the wines presented and allow the staff to explain its structure, origin, and preferred food pairings. You may be surprised that you actually like a wine you previously avoided.
SPIT OR SWALLOW OR DUMP
You do not have to drink all the wine in your glass. If you plan on several wine tastings during the day and you wish to pace yourself or you do not care for the wine served, simply pour the wine into the dump bucket provided on the tasting counter.
Spitting is not required, but it is always acceptable at a wine tasting. Wine experts actually suggest that you do. This is common practice to avoid getting intoxicated throughout the experience and prohibiting you from fully enjoying the various fine wines that you taste. 
Swish the wine in your mouth and let it coat the entire area to discern the flavors. Afterwards, you may choose to spit it into the dump bucket. It is up to you whether you spit or swallow.
SHOULD YOU RINSE AFTER EACH TASTING?
When going from one wine to another in a tasting, it's not recommended to rinse a glass between wines unless you're switching from red wine to white, or from sweet to dry. If you rinse with water, you might dilute the wine, if there is chlorine in the tap water, it can affect the wine's smell or taste.
If the host suggests a rinse for your glass, that means the host will pour a small amount of the next wine into your glass.  It is called a "Rinse." Swish it around to coat the glass and empty into the dump bucket. Then start fresh with a new pour
Some wineries will offer a neutral food provided on the counter, such as crackers to clear the palate after tasting each particular wine.
SHARING A TASTING
It is fine at most wineries for two people to share one flight at a tasting and pay only one tasting fee. Generally, due to the way the wine is measured, you would receive one pour for each wine and the two of you would share the single glass.  I
f you plan on visiting several wineries, splitting a tasting can be a good plan to reduce alcohol consumption, yet still sample the selected wines. You'll get to taste everything, but you won't drink so much that the taste buds, or your body,  are overwhelmed.
TAKE NOTES
Although you are confident you'll remember the name of that spectacular Syrah at the 2nd winery, a day later you may be struggling to recall if it was the Zinfandel you preferred. Bring a small note pad and record your likes and dislikes. Did you enjoy the reds with heavier tannins or the light-bodied fruit forward white? It's a great way to learn and improve your tasting skills.
AM I EXPECTED TO BUY A BOTTLE OF WINE AT A TASTING?
You should never feel obligated to buy a bottle of wine after tasting at a winery. However, if you're tasting at a boutique winery, and you enjoyed their wine, buy a bottle. You will most likely be unable to purchase their wines in a store and it helps to support the smaller winemakers, too. Many wineries will waive or reduce the tasting fees if you purchase wine or join their wine club on your visit. It is not appropriate to haggle on the price of the bottle.
Ask about the shipping laws that apply to your state if you plan to ship wine back home. Consult your airline about weight, quantity, and liquid restrictions if you're flying.
Usually, you would not ask for a second taste of one particular wine unless you are interested in purchasing the bottle. However, if the pourer offers if you would like to "revisit" anything, it is fine to accept without purchasing a bottle.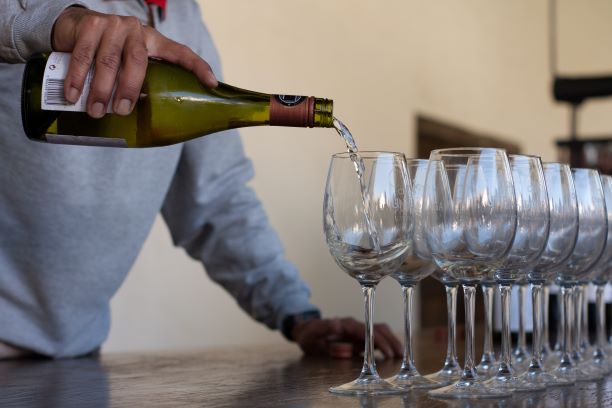 TIPPING? IT DEPENDS
Tipping really does depend on where you are. Some winery owners feel it's a tasting room and not a bar and doesn't accept tips. 
If you have paid for a flight and you don't buy wine, a tip isn't expected but is appreciated by your server, particularly if they provided great service and made the tasting a memorable experience. An average tip ranges between $5 to $10 per couple. 
Many tasting rooms welcome tipping and others even place tip jars on the counter. Some tasting room staff earn commissions for bottle sales and don't encourage tips. If there is a tip jar, or if your bill includes a line for gratuity, then tips are welcomed and appreciated. 
Ultimately, whether or not to tip your server is a matter of personal choice. 
WINE CLUBS
Most wineries have a wine club membership that offers wine discounts, free tastings and special events for its members. They generally offer periodic shipments of wine or wine pick-up events and it is a way to taste the latest offerings. Ask about the incentives if you are purchasing several bottles.
LEAVE ROOM AT THE BAR
If the tasting room is crowded, be considerate, and don't spread out and monopolize the table or bar. Stand closer with your group or take your glass and move away to give others a chance to enjoy a tasting.
CHILDREN
Children are welcome in most wineries but are not allowed at the actual bar. Be sure to call ahead or check the winery's website to see if children are welcome. 
For reasons of liability or preference, some wineries do not allow guests under age 21. If the winery does allow children, they are sometimes restricted to certain areas. However, they are typically welcome to join their parents on winery tours.
Be sure to bring snacks, coloring books, or something to keep them entertained. Please be respectful to the other guests who are there to relax and have a little adult entertainment. As parents, it is your responsibility to make sure they don't disrupt someone else's tasting experience.
BRINGING YOUR DOG
If you're traveling with your furry friend, you're in luck. Most wineries allow well behaved dogs. While some vineyards restrict dogs to patios and picnic areas, many welcome pets into their tasting rooms.
Some local regulations prevent dogs from being allowed indoors at wineries. Not all wineries are dog friendly, so check the Grape Adventures dog-friendly section of our website before you go and use the phone number listed to call ahead and make sure their policies have not changed. 
If dogs are allowed in a tasting room, keep your dog on a close leash while inside. If the tasting room is crowded, you, and your dog, may prefer to sip your wine outside on the terrace or patio.
Click here for 8 Must Know Dog Etiquette Tips for Tasting Rooms
BE COURTEOUS
Have fun and enjoy yourself but don't get drunk and boisterous.
If you don't care for the wine, it is best to not grimace and make negative comments out loud. Instead, simply dump the wine into the dump bucket and enjoy the next wine. Remember that a vintner poured his heart into that glass.
NO PHONES PLEASE
Please remember to switch your phone to vibrate and if you need to take a call, step outside.
DON'T DRINK AND DRIVE
A typical wine tasting pour consists of 5 varietals at 2 to 3 ounces each. If you've thoroughly swirled, sniffed, and evaluated five two-ounce pours at several tasting rooms, those small tastes will soon add up to two to three full servings of wine.
Make sure to have a designated driver, or even better, hire a car or limo service to drive you and your friends to each of the wineries and to see some of the natural beauty of wine country.
There are thousands of wineries and vineyards in the U.S. to explore, each with its own unique style, tastes, setting, and personality. So get out there. Swirl, sip, and enjoy all the unforgettable opportunities to experience the origins of world-class wines and meet the winemakers.