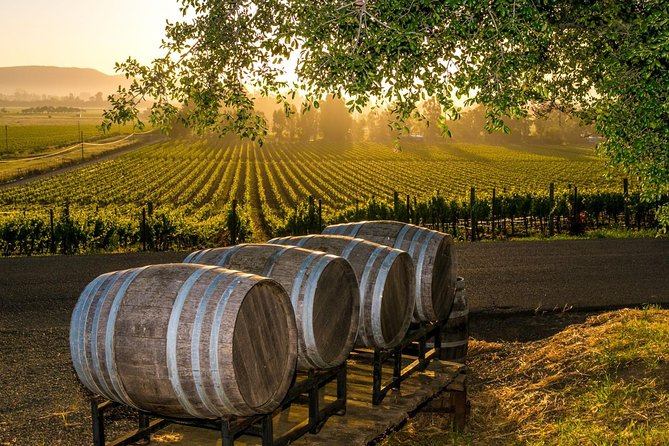 How many wineries should you visit in a single wine tasting day? How much time should you plan to spend at each winery?
Visiting 3 to 5 wineries in a day allows enough quality time at each winery, to savor the wine, visit with the winemaker and enjoy the beauty of the tasting room or vineyard. It also allows for travel time between each winery. Plan on spending between 30 to 60 minutes at each winery.
The number of winery visits and time spent at each winery varies depending if you're wine tasting in urban wine trail, where the tasting rooms are close together, or the countryside vineyards.   Are you planning on taking any tours of the winery? Picnic or a sit-down gourmet lunch? Are you planning on drinking or spitting? Consider the following criteria when choosing how many wineries you can and should visit on a given day.
What to Consider When Choosing How Many Wineries to Visit
Plan Your Itinerary
Most wineries open between 10:00 and 11:00 am and close between 5:00 and 6:00 pm. This gives you around 6 hours, including travel, for your wine tasting. Map out your itinerary and set a plan regarding which wineries you wish to visit first. "Last pour" is usually 20 minutes before closing.
Time Spent at Each Wineries
While each winery visit is unique, you can expect wine tasting to take about 30-60 minutes per winery. If you choose to take a tour of the winery or engage in an absorbing conversation with the winemaker your time at the winery can easily go over an hour. Some wineries offer wine and food pairing education. You may wish schedule time to just wonder thru the vineyard.
Travel Distances
If you are tasting in an urban wine trail like Santa Barbara's Funk Zone where the wineries are all within walking distances you can visit more tasting rooms. Some of the more scenic wineries located on vineyards in the country and can have 15 to 30 minutes travel times between them.
Swallow or Spit – Typical Tasting Room Wine Pour Size
If you plan on drinking at the wine tasting, it recommended you reduce the number of wineries you plan to visit each day. A typical tasting consists of 4 to 6 wines with each pour between 1 and 2 ounces. This is equivalent to a full glass of wine or more per each tasting. Those seemingly small servings add up quickly.
If your wine country trip will focus on evaluating the tastings and adding to your wine collection, you will most likely spit. Spitting will allow more tasting rooms visits in each day and keep your senses sharp to appreciate each wine throughout the day.
Driving
If you plan on drinking and not spitting you will need to limit the number of wineries visited, or have a designated driver, hire a car, or enjoy one of the local wine tours.
Appointments
Most wineries today require appointments due to Covid-19. Don't schedule your appointment to close together. Keep at least an hour between appointments and remember to consider travel times. Wineries typically schedule a 90-minute window for your tasting. Please arrive on time.
Schedule Time for Lunch
Wine Country and gourmet foods go hand and hand. The number of wineries visited during the day will be influenced if you plan on stopping to enjoy some of the area's farm to market cuisine or just grab a picnic lunch. Many wineries also offer food or Charcuterie Plate or offer picnic areas on the grounds.
Conclusion
3 to 5 tasting room visits per day per day with 30 – 60 minutes at each is a good benchmark. Ultimately the number of wineries you visit is your decision. Contemplate the amount of alcohol, the driving distances, and the amount of time you want to spend at each winery when you plan your wine tasting trip.