California's Central Coast Wine Regions & AVA's produce some of California's most exciting and promising wines. All along the Central Coast, you will find artisan winemakers creating award-winning wines and warmly sharing their craft.
Following the famous El Camino Real "the royal road", now the Pacific Coast Highway 101, the Central Coast Wine Regions are among the oldest in the state, with vineyards planted by Franciscan monks in the late 1700s.
California Central Coast – Wine Regions & AVA's
California's Central Coast (AVA) Wine Region stretches over 300 miles along the California coastline from San Francisco, south to Santa Barbara, and continuing 60 miles inland from the Pacific. The region is planted with over 93,000 acres of vineyards with Chardonnay the most prevalent.
The Central Coast AVA includes portions of 6 counties: Santa Barbara, San Luis Obispo, Monterey, Contra Coast, and Santa Clara Counties and includes over 27 approved unique AVAs (American Viticultural Areas). These AVA's include award-winning regions such as wine Paso Robles, York Mountains, Edna Valley, Arroyo Grande, Livermore Valley, Santa Clara Valley, Santa Maria Valley, Santa Ynez Valley many other AVA's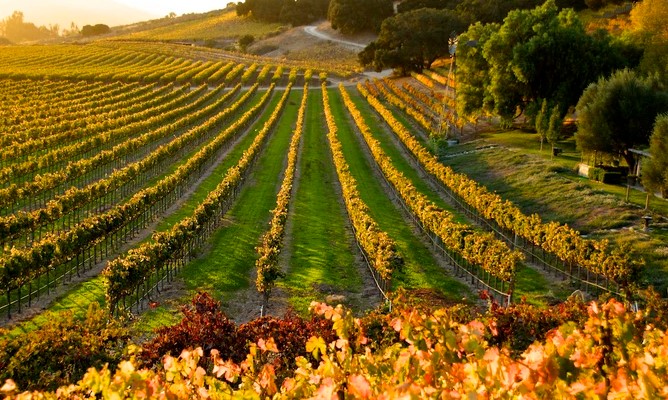 Santa Barbara County Wine Country
Famous Varietals: Pinot Noir, Chardonnay, Sauvignon Blanc, Grenache, Viognier and Syrah.
Home to over 275 wineries. The region has over 16,000 acres of vineyards, and there are over 70 different varietals planted.
Santa Barbara County AVA's: Los Olivos AVA, Santa Maria Valley AVA, Alisos Canyon AVA, Ballard Canyon AVA, Santa Ynez Valley AVA, Sta. Rita Hills AVA and Happy Canyon AVA.
The town of Santa Barbara is known for its signature red-tiled roofs and Spanish colonial architecture, lush vegetation, and a magnificent natural setting nestled between the Pacific Ocean and the towering Santa Ynez Mountains
Santa Barbara Wine Country is known for its beautiful vineyards and many Wine Trails located among the County's rolling hills but also its urban tasting rooms located within the City of Santa Barbara itself.
View Our Santa Barbara Presidio Wine Walk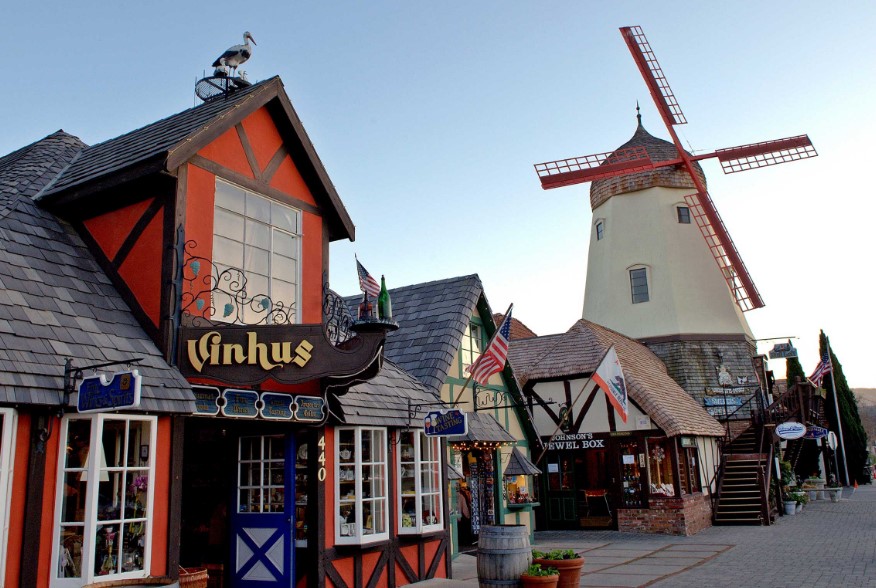 Solvang: An idyllic Danish town, Solvang has many tasting rooms and is surrounded by wineries and vineyards. This acclaimed wine region is known for its outstanding Chardonnay, Pinot Noir, and Syrah. Downtown Solvang offers more than 20 wine tasting rooms all within easy walking distance.
View Our Solvang Wine Trail Video
Los Olivos: Small town charm featuring a 6 block, walkable downtown featuring over 40 tasting rooms from small wine producers from all over Santa Ynez Valley.
Foxen Canyon Wine Trail, includes over 14 picturesque wineries and vineyards located in the surrounding valleys. This 30-mile road winds from Los Olivos to Santa Maria offers some of the most accomplished winemakers in California. Firestone Winery & Vineyard, Fess Parker Winery & Vineyard, Andrew Murray Vineyards, and many others.
Lompoc: Offering over 40 wineries from boutique tasting rooms in the edgy Wine Ghetto to beautiful estate vineyards in the Sta. Rita Hills. The rare combination of climatic conditions, east-west hill orientation, and calcium-rich soil, combine for distinctive wines. Experience a flavorful concentration of fruit that produces exceptional Pinot Noir, Chardonnay, Syrah, and other cool-climate varietals.
Los Alamos:  An eclectic small town with a western heritage, Los Alamos features  saloons, gourmet restaurants, and over 7 local winery tasting rooms. 
Local winemakers include Bedford Winery, Lo-Fi Wines, A Tribute to Grace Wine Company, Municipal Winemakers, and Lumen Wines.
Famous Varietals:  Pinot Noir, Chardonnay, Rhône-Style Varietals
San Luis Obispo: Home to 14 distinctive AVA's: Arroyo Grande Valley AVA, Central Coast AVA, Edna Valley AVA, Paso Robles AVA, Santa Maria Valley AVA and York Mountain AVA.
San Luis Obispo offers farm-to-table restaurants, renowned wine country, historic sites, and welcoming, friendly communities all in a beautiful setting.
San Luis Obispo County is home to 4 major AVAs: Paso Robles, Edna Valley, Arroyo Grande Valley, and York Mountain. Over a hundred family-owned wineries line the scenic country roads offering aromatic whites and classic Bordeaux varietals.
San Luis Obispo Wine Regions to Know
Noted AVA varietals: Cabernet Sauvignon, Merlot, Zinfandel, Syrah, Petite Sirah, Cabernet Franc, Grenache, Mourvèdre, Petit Verdot and Chardonnay
Paso Robles Wine Country is centrally located between San Francisco and Los Angeles along California's Central Coast. The region offers more than 200 wineries ranging from family-owned boutiques to well-known labels such as J. Lohr, DAOU Vineyards, Justin Vineyards and Estrella River.
Paso Robles is California's fastest growing AVA growing from 50 wineries in 2000 to over 200 today. 
Paso Robles' warmer inland climate lends itself to Bordeaux, Rhone and Zinfandel grapes, which vintners use in innovative blends, as well as traditional vintages. Hot, dry days and cool nights help to grow full-bodied red Bordeaux and Rhone varieties, most notably.
More than 60 wine grape varieties are grown in Paso Robles, ranging from Cabernet Sauvignon and Merlot to Syrah, Viognier, Zinfandel and Roussanne.
Photo by Arroyo Grande.org
Noted Varietals: Pinot Noir, Chardonnay, Zinfandel
Arroyo Grande is a historic village with character and charm. It has a walkable downtown lined with Victorian buildings and wine tasting rooms. There are over 30 wineries in the area.
The orientation of the valley causes air from the cold Pacific Ocean to be funneled up the valley shrouding the vineyards in fog. These climatic conditions are ideal for cool-climate Pinot Noir and Chardonnay varieties, letting them build rich varietal character without losing acidity.
This AVA is partitioned by the cool coastal fogs flowing from the coast where Zinfandel, Petite Sirah, and Rhone varietals are grown on the higher elevations and the cooler mid-valley vineyards produce Chardonnay and Pinot Noir.
Local wineries include DePaola Winery, Laetitia Winery, and Kynsi Winery.
[et_pb_wc_additional_info _builder_version="4.9.4″ _module_preset="default"][/et_pb_wc_additional_info]
Noted Varietals: Chardonnay, Pinot Noir, Syrah & Viognier.
The Edna Valley AVA features breathtaking views and is home to seventeen wineries, each within a five-minute drive from the other. 
The AVA runs 10 miles through the scenic Edna Valley, southeast of San Luis Obispo.
Edna Valley wine region has the longest growing season in California., allowing the grapes to mature and develop unique and exciting flavors that not available anywhere else.
Most vineyards are located less than 5 miles from the Pacific, creating mild days and cool evenings that help Chardonnay and Pinot Noir reach their maximum potential. A complex soil profile adds character and complexity too.
Local wineries; Talley Vineyards, Alban Vineyard, Center of Effort, Chamisal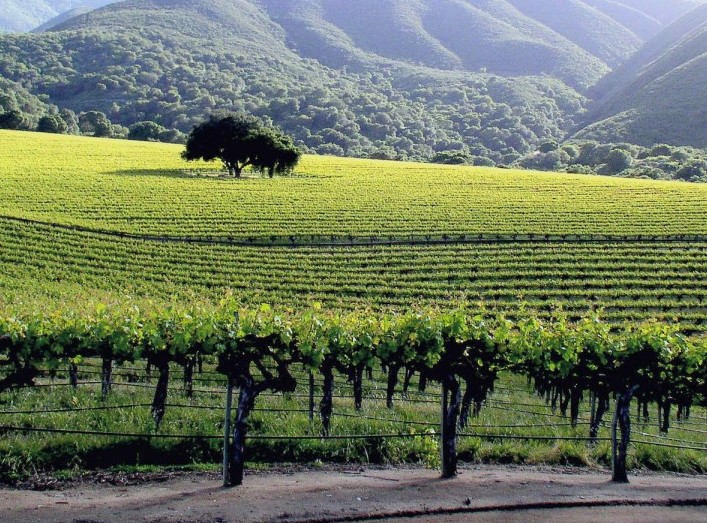 Noted Varietals: Pinot Noir, Chardonnay, Merlot
The Monterey California coast is world-famous for unparalleled breathtaking scenery including Big Sur, Pebble Beach, and whale watching in the Monterey Bay.
Monterey County ranks among the top 5 wine-producing counties in California.  The cooler northern part is known for producing Chardonnay and Pinot Noir.  The warmer southern end is known for Cabernet Sauvignon, Syrah, and other Rhone varietals.
Monterey County is one of California's largest wine-producing regions with approximately 43,000 acres of planted vineyards and grows over 53 different grape varietals. A combination of perfect elements including warm sun, cool fog, ancient soils all help produce award-winning wines.
Over 60 tasting rooms are found in Carmel-by-the-Sea/Monterey, Carmel Valley, and River Road.
AVAs to know:
Arroyo Seco AVA, Carmel Valley AVA, Central Coast AVA, Chalone AVA, Hames Valley AVA, Monterey AVA, San Antonio AVA, San Bernabe AVA, San Lucas AVA, and Santa Lucia Highlands AVA.
Located in Western Monterey County it is home to over 50 wineries and is known for its cool-climate Pinot Noir and Chardonnay.
The Santa Lucia Highlands AVA covers 22,000 acres. These cool-climate varietals thrive in the brisk ocean air and produce exceptionally robust, elegant wines.
Noted Varietals: Cabernet Sauvignon, Merlot, Chardonnay, Pinot Noir
Many of Carmel Valley's wine tasting rooms, such as Parsonage Winery, Joyce Wine, Georis Winery, Bernardus Winery, Holman Ranch Vineyards, and Joullian Vineyards are located just a brief stroll from each other, allowing wine tasting on foot.
Carmel Valley is a rugged, beautiful region west of Monterey and the famous Pebble Beach. The narrow valley runs from the Santa Lucia Mountains north to Monterey Bay. This AVA is known best for its exceptional Cabernet Sauvignon wines.
The region contains over 19,000 acres, with 300 acres of wine grapes under cultivation, primarily located within Carmel Valley and Cacahgua Valleys.
The Cachagua Valley's elevation vineyards s are above the fog line and exposes the grapes to a warmer climate.
Temperatures can swing between 100 degrees in the summer with cool evenings dropping into the low 30's and 40's. This dramatic swing in temperature extends the ripening time and growing season, allowing the grapes a slow maturation process for eventual complexity in the fruit and the wine.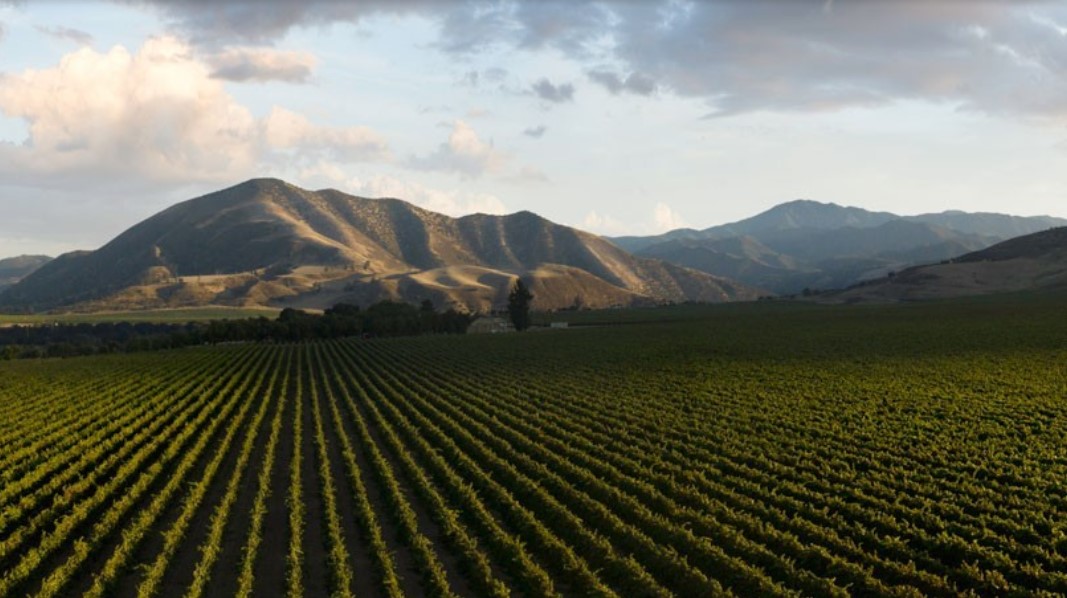 Noted Varietals: Chardonnay, Pinot Noir, and Riesling
Located in Monterey County, the Arroyo Seco AVA offers a dramatic setting with a unique and diverse countryside. 
The Area enjoys a cool climate that allows one of the longest growing seasons in California. Arroyo Seco wines are highly respected by wine enthusiasts but not well known by the general public. There are only 7,000 acres of vineyards in the AVA.
Local Wineries include; Mercy Wines, Hahn Family Vineyards, La Crema, and Chesebro Wines. 
Noted Varietals: Zinfandel and Cabernet Sauvignon
Santa Clara Valley runs along the edge of the Santa Cruz Mountains, bordering Silicon Valley and north to San Francisco. The valley produces premium, intense wines made from Zinfandel and Cabernet Sauvignon grapes. There are more than 35 wineries in close proximity to Silicon Valley with over 1,500 acres of vineyards in the AVA.
Early-morning fog blankets the vineyards, cooling the grapes before burning off later in the day. These ocean influences extend the growing season helping the grapes retain an elevated level of acidity.
Noted Varietals: 100-year-old plantings of Old Vine Zinfandel, Syrah Mourvèdre, and Carignan
Located east of San Francisco Bay, the Contra Costa AVA is home to 18-plus regional wineries that produce rustic, earthy, and leathery styles of red wine.
The regions hot climate is tempered by cool afternoon breezes from San Francisco s mean that benefit from lower temperature at night.
This cooling-off period extends the growing season and grapes have longer to develop rich, complex flavors without decreasing acidity.
Well know wineries include Cline Cellars, Three Winery, Rosenblum, Sterling Albert Winery, Viano Winery
Central Coast Micro-climates and How it Influences Wine
California's Central Coast Wine Regions are comprised of sub-regions, each expressing a different terroir.  These micro-climates produce unique, diverse, and a wide variety of wines.
Cooler Climate Wines
Many of the Central Coast vineyards are nestled among valleys that open up to the Pacific Ocean. Warm air inland draws the cool Pacific air into these valleys bathing the grapes in cool moist air. The mountains are unique as they run east / west and allow the coastal fog and breeze to come inland to the warmer areas.
The benefit is a long growing season and the slow, even ripening of varietals such as Chardonnay, Pinot Noir, and Syrah. This is important as it preserves the grape's acidity as they ripen.  Without cool evenings, the grapes would lose much of their natural acidity by the time they ripen, resulting in a dull and flat wine.
Warmer Climate Wines
Conversely, some areas along the Central Coast are geographically sheltered from the cool Pacific breezes and fog. These vineyards experience warm, dry day-time temperatures that are perfect for ripening full-bodied Rhone varietals such as Grenache, Syrah, Mourvèdre, and Viognier and Bordeaux varietals such as Cabernet Sauvignon, Merlot, Cabernet Franc, Petit Verdot, Malbec
[et_pb_wc_additional_info _builder_version="4.9.4″ _module_preset="default"][/et_pb_wc_additional_info]